Healthcare
Hospitals & Other Healthcare Providers
Common Courtesy proudly serves hospitals and other medical service providers who wish to provide high-quality, low-cost transportation to their patients.
Examples of the healthcare providers and related industries we may serve include:
Hospitals (Inpatient, Outpatient, Intake, Discharge, EMS, Community Extensions)
Independent Health Clinics and Other Services
Home Care Clients & Caregivers
Health Insurance Providers
Physicians
Even EMS services, saving huge costs of traditional ambulances for minor services
Why choose Common Courtesy for your healthcare program?
Decrease No-Shows: Improve appointment attendance by offering low-cost, door-to-door transportation.
Efficient Release Times: Vehicles are ready promptly when appointments conclude.
Easy To Use: You set the parameters for the types of rides you'd like to fund, then staff or patients simply call Common Courtesy to coordinate trips as needed. You may also coordinate our trips on your own if you choose.
Low Cost: Healthcare partners can expect to save $10 - $16 per trip compared to traditional van services for a typical trip of 10-15 miles.

Van service: $34 per trip on average (excluding capital costs)
Common Courtesy: $16 per trip on average

Short Wait Times: Riders report wait times of only 5 to 15 minutes on average.
Safe: A Common Courtesy representative monitors the trip in real-time and is available by phone for the rider throughout the experience. Rideshare drivers have insurance, pass background checks, and are continually rated for quality.
Approved Vendor: Common Courtesy is a Vendormate / GHX.
Trusted: Long-time certified recipients of Healthcare Providers Accounts Payables.
Many Healthcare Use Cases
Shuttle eligible patients to and from medical appointments
Transport Home Care staff to a patient's home
Offer transportation as part of an insurance plan's benefit
Enhance patient independence and quality of life
Healthcare equity services
Grady Memorial Hospital
Case Study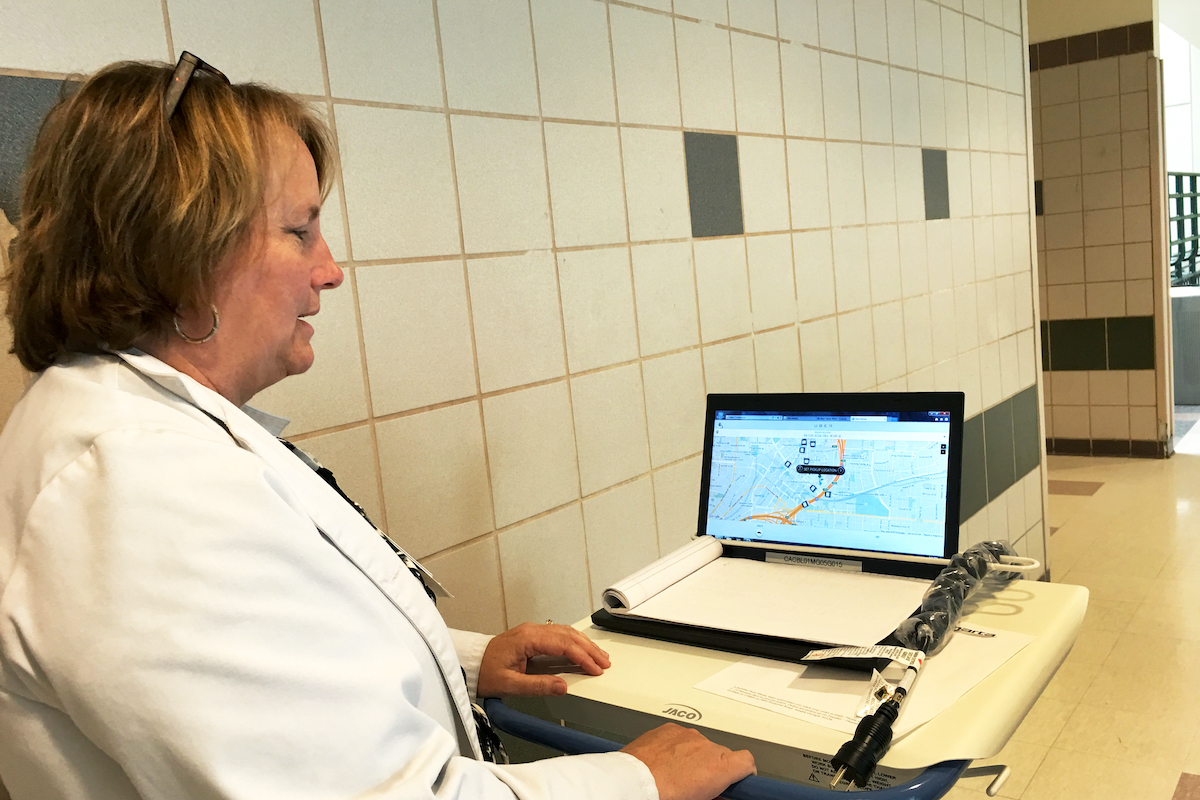 Issue
The Heart Failure Program at Grady Memorial Hospital identified that many of their patients suffered from a lack of reliable transportation to get to and from their appointments.
Solution
After considering multiple transportation vendors, the Grady team opted to partner with Common Courtesy to arrange ground transportation for their clinic appointments via rideshare providers. Patients no longer had to worry about how they'd get to their appointments, and more of them showed up. The end result is better care for people and communities who need it the most.

According to program manager Diane Wirth, the program has "spread like wildfire" over the past years. Grady Heart Failure was the first department at Grady to start using Common Courtesy, but Grady Social Services, Grady Cancer Center, Grady Infectious Disease, and Grady Behavioral Health quickly followed suit. That means more people receiving better care than ever before, and we're just getting started.
Grady and Common Courtesy want to continue to allow uncommon results for our Oncology patients. The completion of Oncology care regardless of the transportation challenges is the ultimate goal of patient-centered care. Through the partnership with Common Courtesy, we have reduced missed appointments and increased revenue.
– Makeeta Rayton, MSW, Grady Cancer Center for Excellence
Affordable & Safe
How Much Does It Cost?
Contact us
for a
complimentary consultation
. We'll assess your situation and give our advice with no upfront fees. We offer two models with different per-trip costs to best suit your needs:
Self-Managed: Rideshare Trip Cost + $1
Under this option, we'll teach your chapter how to use Lyft and Uber's concierge platforms so you can schedule and monitor your members' rides independently.
CC Managed: Rideshare Trip Cost + $4
Under this option, we'll schedule and monitor your group's trips for you. You'll only need to tell us when and where your members need to go, and we'll take care of the rest.
Save With Our Services
Rideshare trips are typically less expensive than taxi trips, and pricing is based on a base fare, a booking fee, and time and distance costs.
Partners typically save $10 - $16 per trip compared to traditional van services for trips of 10 to 15 miles, and we offer easy monthly billing.
Healthcare Partnerships In The News
Some of the Healthcare Chapters We've Successfully Served Include:
American Parkinson's Disease Association
Atlanta Hearing Associates
Emory University Hospital
Grady Memorial Hospital
Riverwoods Behavioral Health
UHS-Savannah
United Healthcare
WellStar Health
Ready learn more?
Use the form below to contact us
and get started today.
Contact us
Contact information
No smart phone required. Call one of our founders now to get started.
Phone number

(678) 809-2521

Email
Send us a message